Macylab Instruments Inc. Joins Analytica 2016
Time:2017-08-07 Read:
It was a nice day on 10th May. The biennial Analytica 2016 was held in German Munich International Exhibition Center. It lasted four days and mainly focused on food analysis, plastics analysis, gene and biological analysis three themes. It attracted more than 1100 instruments equipment and related consumable items supplier from over 40 countries and areas. They exhibited their latest instrument products and laboratory technical proposals.
During the exhibition sponsor had convened the Analytica International seminar same as the exhibition theme and it was the first time held on ICM-Munich International Center. Meanwhile sponsor held 22 half of-the-day or all-day seminars more than 130 lectures, conference theme included small analysis system, modern trend of separation science: to explore the detection limit, to organize the biological imaging, clinical proteomics, nano particle sensors and s on. Related businessmen from all over the world gathered there and Macy was the invited member to attend the exhibition.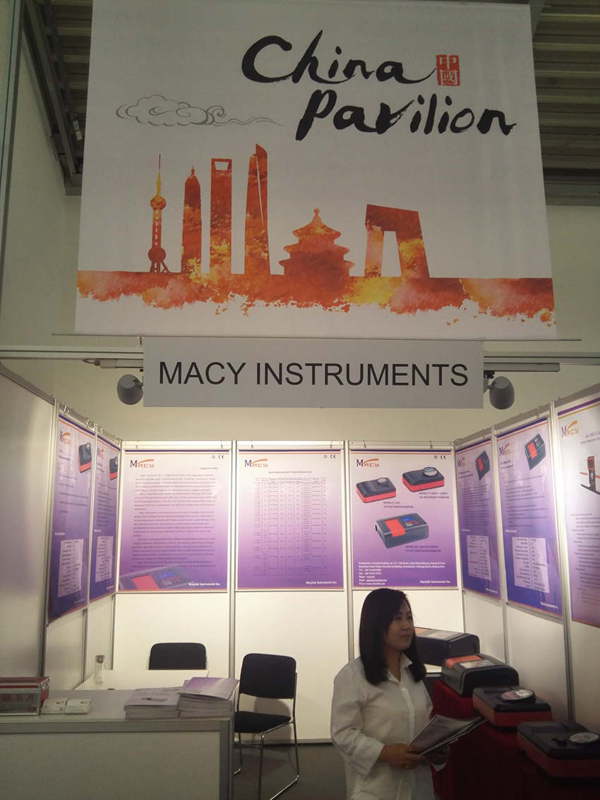 Macylab Instruments Inc. joined Analytica 2016 with UV/VIS spectrophotometer and AA-1800 model Atomic Absorption Spectrophotometer. And it is the first time Macy AAS models enter into European doing marketing and advertising. Of course the result was obvious and we got a lot of business customers. We have prepared a lot of product catalog and posters for the exhibition, which ensures that we can better show our instruments and obviously impressive. Macy has learned and researched some certain application schemes from Germany related scientific research institution in allusion to UV/VIS spectrophotometer and AAS. And we have learned a lot and will improve ourselves. Macy got many exhibitors' consistent high praise with its classic red and black design, perfect out appearance, which is fit for European aesthetic standard. And lots of visitors was full of praise for Macy Instruments powerful function and perfect technical specification.
In addition as Macy had attended last three Dubai Exhibitions, we have met some our old customers and once again, carried on the thorough discussion cooperation, which promotes our communication and cooperation.
Technology-because you change, as Macy enterprise tenet, Macy insists on exploring and innovation. In order to develop our business, Macy strives to train professional distributors and actively cooperate with part oversea R&D institutions and suppliers to achieve mutual benefit and win-win result.